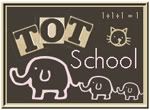 Kyla is 28 months.
Sorry it's been awhile since you've seen a Tot School post. I gave up the idea of doing a letter a week or really keeping up with it at all on a regular basis. It's just not realistic for us right now. But I figure when I do have time to plan and do these activities, I will post about them! Some days we just get on a roll and are able to do a lot of fun things. I also try to do a lot of activities on the weekends when Tyler can play with Kase.
The past weeks/weekend we focused on the letter D. Kyla can recognize A, B, and C (among others) on a consistent basis. She loves to randomly point out letters she knows. And Mama gets excited every time (I blame that on the first child syndrome and getting excited for every little thing). After our D activities this week, she definitely has it mastered as well!
She used do-a-dots to paint many pictures!
It's also fun that she can name the colors when she wants them.
Little brother loved watching her!
She was so proud of herself. She kept saying "YAY!"
We made a dog house, which I found
here
. I cut the middle of the D out, Kyla glued the puppy inside, and then we taped the door on so it would open and close.
She did the purple dots by herself. She's getting very good at that!
She thought this was so funny! Every time she opens the door, she says "Hi!"
I had an extra copy of the D so I let her just paint it. She only colored the inside of the D and the heart. Usually she just goes crazy all over the paper.
We ate dinosaur chicken nuggets.
I have heard about the Starfall program on a few other blogs so I thought I'd check it out with the
letter D
. Kyla had a lot of fun with it. She's used to the iPad though so she kept wanting to touch the computer screen. She doesn't know how to use the laptop mouse, but she had fun pushing the button after I put the cursor in the right place.
I painted Kyla and Kase's feet to make little ducks. Kyla loved this and Kase just looked at me like I was crazy when I painted his foot. I got the idea
here
. It's one of my favorite blogs to get ideas.
She used watercolors to paint lots of dolphins.
We made a dog puppet out of a paper bag.
She gave the dog lots of hugs, haha.
My cousin gave Kyla this alphabet painting that she painted herself. Kyla loves it and has been saying her letters every day since she got it! Thanks so much, Sharon! We are working on saying the animals/objects too!
I filled up the bathroom sink with shaving cream and let her swim her dolphin and duck around :)
I have never been one to stress about messes. If she enjoys it, the clean up is worth it!
The boys just watched. And shook their heads :)
I didn't find any good D books at the library so we just read ones from home. We read our favorite Dr. Seuss books, which we all love :)
We had a lot of fun with D. There were some dinosaur activities that we didn't get to, but she has D mastered so I think it's time to move on. I also bought the stuff to make dirt dessert. I think we'll do that tomorrow! Mmm!