I know some people disagree with letting your toddlers play with iPads, but I am not one of those people. Obviously I don't let her sit on it all day. But most days (not all), I will allow her a little time on it if she's been a good girl and had no timeouts. It also has come in very handy at restaurants, doctor appointments, etc. I absolutely think some of these apps that she loves have helped her learn her colors, shapes, ABC's, animals, etc.
We work on letters a lot and she has her placemat at the table where we talk about them. But the couple of apps that we have that specifically work on letters have helped her to actually recognize many letters. We were going through the McDonald's drive thru the other day (Mama needed some caffeine) and I didn't even realize right outside our window on the side of the building was the McDonald's logo and name. She kept pointing out her window saying "C C C C" and I finally realized she was talking about the C in McDonald's. She does this all the time with things around the house or books with not just C, but many other letters that I had no idea she even knew. And one night in the bathtub, she had the number 8 foam thing and she said "EIGHT". So do I think the iPad is bad? Absolutely not!
So here are a few of our favorites!
1.
Squiggles
(Free) - This is her favorite right now. Her "squiggles" come to life. Here is one example of where you make squiggles, push Go, and the cars come to life. There are so many fun things (sheep's wool, rocket's smoke, clouds to make it rain to water the flowers, cotton candy). The colors are bright and fun and the sound effects are great! And it's free...sweet!
2.
Elmo's ABC's
($4.99) - I have to be honest, if we didn't have an iTunes gift card, I probably wouldn't have paid five bucks for it. I'm sure glad we had the gift card though because we LOVE this app! It is probably geared toward preschool aged kids, but Kyla still gets a lot out of it. I take her finger and help her trace the letters. Once you trace them, you can watch videos, color things and lots of other activities of things that start with that letter. I would say when all the letters are shown like in the picture, Kyla can point to over half of them when you ask her where it is. There are still a lot of features that are over Kyla's head like being able to choose the object that starts with that letter. But with some help, she can do most of it. Kyla loves Elmo's cute little voice too :)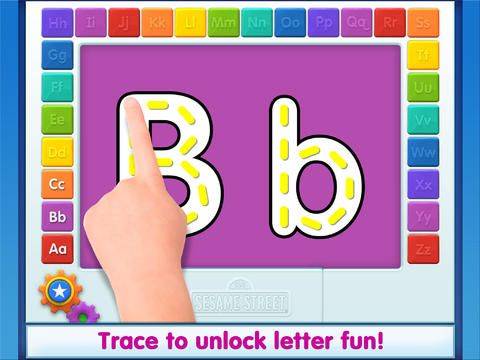 3.
Watch Disney Junior
(Free) - This has full episodes of Mickey, Little Einsteins, Doc McStuffins, Handy Manny, and many more. This one isn't interactive, it's just the full episodes. But sometimes I'll let her watch a show on there if I don't want it on the main TV or if I need to get something done. The only negative about this one is you need the internet for it so you can't watch it in the car. She tries and gets frustrated when it doesn't work.
4.
Toddler Counting
($0.99) - Kyla loves this one, but to be honest, I feel like it should be free. The picture below is exactly what the whole app is. There are different objects and you touch each one and count them. When you count them all, a new object with a different amount shows up. Very simple, but Kyla has always loved counting things so she loves it. I think this will be a good beginner app for Kase when he starts using iPad.
5.
Baby Piano HD
($2.49) - I love this one! You can have two people (the picture on the right) so Kyla and I both play together. You can have the keys play the regular sounds or change it to animal noises. You can just do free play, play along with a popular nursery rhyme, or you can even just play any notes randomly and it still sounds like a song. That's my favorite :) You can also record songs and save them. It's colorful, fun and perfect for babies or toddlers. This is another one that I think Kase will enjoy soon.
6.
PBS Kids
(Free) - We don't watch PBS so Kyla hasn't seen of those cartoons. This is one that I let her watch when I need to make dinner or take a shower so I don't know a lot about the shows, but she seems to love them!
7.
Abby The Train Driver Colors
(Free) - There are a lot of other Abby apps (some free, some not), but so far we only have the colors. I really should install a few others because Kyla has her colors mastered. Abby asks you to choose the correct color animal or whatever and if you get it right, you get a sticker. Kyla plays with this, but I think she's getting a little bored. I will have to check out the others!
8.
Laugh & Learn Shapes & Colors Music Show For Baby
(Free) - It has two different levels. The first one you basically just touch the screen and a different shape pops up. The second level is like the picture. It is a piano that helps with colors and shapes. It's a pretty simple app, but has fun music and the dancing shapes are cute.
9.
Mickey's Road Rally
(Free) - This was the first app I downloaded and it's still one of her favorites. It's a Mickey episode, but is interactive. You talk to it, touch it, shake it, tilt it. It's fun. And free!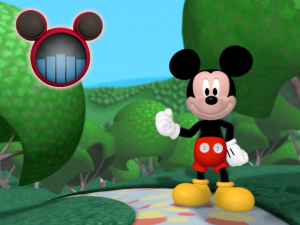 10.
Monkey Preschool Lunchbox
($0.99) - We love this app! It works on counting, colors, puzzles, letter recognition, matching. Kyla can do most everything and she actually surprises me with a lot of things. We do this app together a lot. I will show her the B and ask her which word starts with that same letter and she gets it every time. She loves the matching games. Overall, it's definitely worth the $0.99, in my opinion.
The picture below is the one thing that annoys me about this app. Kyla knows how to drag the banana pieces over, but you literally have to get it exactly in the correct spot or it won't work. She always asks for help when she sees this come on. I sometimes even have to drag pieces a few times because it doesn't work. It's just a little touchy. I think as long as they are in the right area, it should recognize it. But this is really my only complaint. She will get it soon I'm sure.
We have some other apps on our iPad, but these are the ones that seem to get played with the most.
What apps am I missing that you and your kiddos love?