First things first. I have created a Bloglovin button over on the top right so click over there to follow me. In case you've been hiding under a rock and haven't heard, Google Friend Connect is going away so this will be the new way to follow me. And hopefully none of the things that Tyler posted about me yesterday made you want to stop reading :)
Speaking of what my sweet hubby had to say (if you haven't read his post from yesterday,
go HERE
). Anyway, I felt like I needed to explain myself on a few things.
1. The toilet seat. I think this goes back to when I was pregnant, fat and miserable. I hated having to bend over in the middle of the night to pull the lid up. Obviously I want him to put the seat down, just leave the lid up. Basically just have it ready for me, haha.
2. Going to the gym to run on the treadmill. I have a few excuses for this one. A) I wanted to run another errand. B) Our treadmill had to be moved to make room for my Thirty-One meeting and it hadn't been moved back yet. And I need to watch TV while I run. C) Shawna and Bri, you are exactly right. Kid-free time out of the house is limited so I will take it when I can :)
3. Kyla got a "You Are My Sunshine" book and ever since has loved me singing it to her at night after her bedtime book. Usually she talks me into singing it 3-4 times even though my singing is just as bad as my dancing.
4. Let's talk about this cooking comment. Yes, I like to eat out at least once a week. Yes, I do frozen pizza once a week. Yes, I have been slacking on trying new recipes. But I always make sure we are fed. I will do better with this one though!
I have to tell you guys, Tyler had typed that we will be married 8 years this July, when it's actually going to be 7. So of course I had to call him out on it :)
I loved having him blog again though. I think he's great at it and maybe I can talk him into a post a month? Probably not, but I'll see what I can do. Becky has the link up open for two weeks so you still have time to have your husband or whoever else write some random facts about YOU! I'd love to read them :)
On a completely different topic, what does it take to get a good night light? I am seriously so annoyed. These 4 LED's are all fairly new and already don't work, even when fully charged.
And they are not cheap! So I went with a cheap little Mickey plug-in one, which Kyla LOVED! Guess what? Not even a week later, doesn't work. You can't tell me the bulb should burn out THAT fast. Ugh!
Anyone have any good night light suggestions? Kyla freaks out when she doesn't have one. Luckily the mushroom in the first picture still *sort of* works, but it's more of a strobe light than a night light. I think it scares her a little, but it's better than complete darkness.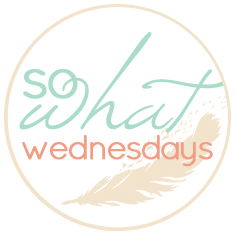 Lastly, I'm linking up with Shannon for So What Wednesday!
So what, if
Kase's sleeping habits this week have made me question baby #3.
So what, if
I am a huge grump this morning. Very little sleep, cramps, a headache and the fact that it's not supposed to stop raining until Friday are all to blame.
So what, if
I am dying to get my hair highlighted. I think it needs to happen next week!
So what, if
I might just take both kids with me for both of their first haircuts!
So what, if
Kyla gets so crazy excited every time she sees a bird outside the window and then we talk to it in our birdie voices :)
So what, if
I was supposed to get some pictures of Kase done this afternoon, but I am rescheduling because nap time is MUCH more important today.
So what, if
our basement still has all my Thirty-One stuff all over the place from my meeting that was LAST Thursday.
So what, if
we stopped swaddling Kase, but have since put it back on.
So what, if
this post was a little long and chaotic.