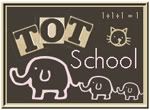 Kyla is 26 months old.
We took a little break from the letter D to do some fun St. Patrick's Day activities.
She saw the other blank shamrock and kept asking to paint. It's her favorite thing to do. So I just let her paint it green and printed another one for the other project I had planned. She is the boss :)
We played with green play doh. I say "we" because I love playing with play doh, haha. I tried making D's, but she said "No No No!" and pulled them all apart.
I knew she'd like the next project because it involved gluing. I cut out a white shamrock, glued it on black paper, and let her glue little pieces of green paper on it. She loved this and really took her time with it.
I think this was her favorite project we've ever done. Between the ripping of paper and gluing, she was loving it. I think we'll do an Easter egg too :)
More coloring pages...
She sorted two different green poms. She did it in about five seconds and looked at me like "That's it?"
I blew up a green balloon and we had fun bouncing it around the house.
She got her brother involved. She kept throwing it at him and it would bounce off his head. He loved it!
We got a couple St. Patrick's Day books from the library.
Of course I had to try to get a sibling picture with their green on. Kyla was asking for the iPad. I told her if she smiled at the camera she could have it. No luck.
Back to letter D we go!