I've mentioned this "dream house" a few times lately so I thought I would elaborate a little bit.
Right now we are in a small, 3 bedroom house. It's ok for us right now, but it feels like we are quickly outgrowing it. We plan on buying a bigger house with a bigger yard, preferably a little closer to Madison (but not mandatory) and a good school district. I want to be in a new house before baby #3, IF there is a baby #3. More on all of
that
another day.
So besides a big yard, location and schools, what else is on our must have lists? I have started two different lists. One for "must haves" and one for "would be nice". Here is what I have so far, in no particular order:
Must Haves
Open floor plan
Fireplace
At least 4 bedrooms
Finished basement
3 gar garage
Flat driveway for basketball hoop
Whirlpool tub in master bath
Deck
Wood floors - at least in kitchen
Big enough master bedroom for a king bed
Would Be Nice
Double vanity in master bath
Stainless steel appliances
Granite countertops
Bar in basement
Mud room
Big front porch that we can sit and relax and watch it rain (yes, I'm old)
You know, something like this...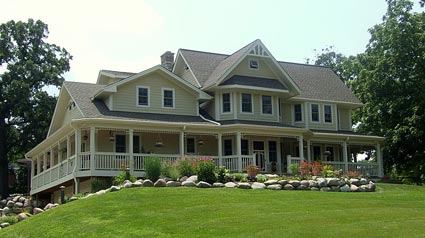 Tyler and I have always said we could never build our own house. We (mostly me) are way too indecisive. I don't see us enjoying picking out every little detail. We had a hard enough time deciding on things for the basement. But as we continue looking at what's out there, the thought of building has crossed our minds. I don't think our must haves are too "out there".
Realistically though, we likely won't put our house up for sale until next year. So we have time to figure it out!
What am I missing? What would be in your dream house?