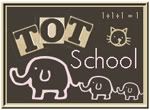 Kyla is 21 months old.
We had a great week of Tot School (minus a meltdown one day when she got mad at me for turning Mickey off so we could do school stuff). I didn't get a chance to take a lot of pictures though. A lot of the things Kyla did, she needed my help. And since I don't get to spend a ton of one on one time with her right now, I don't like to use all our time being a paparazzi. But I will share the pictures I do have.
I can officially tell you that Kyla knows her colors! She knows red, blue, green, yellow, orange and purple. She loves to play with her do-a-dot markers even when she's not painting. Luckily she can't get the lids off yet so I let her play with them. I started asking her which one is red, blue, etc. and she got it right every time. She surprised me with knowing yellow and purple. Yay!
Here are some things we did this week:
Used do-a-dots to paint a pumpkin picture
She insisted on using yellow!
I may have mentioned it before, but if you don't have do-a-dots for your toddlers, you need to get them! I bought mine from Amazon and they are totally worth it. She absolutely loves them and there are so many free printables you can get online to go with them. She uses them all the time and they are still going strong. They are great!
Finished product!
I started working on tracing with her. I printed some sheets out and laminated them so she can use dry erase markers and we can reuse them.
Obviously Kyla can't trace on her own yet. She actually lets me put my hand on hers and we trace together. And then I let her do her own thing.
She's been loving her
Sort & Spin Hippo
. She can get all four shapes into the correct spot.
I printed these two activities out, but didn't get pictures of her doing them. They are both advanced for her, but she loves getting attention from me so I knew she'd love me helping her.
She can't sort the pumpkins yet, but she likes pointing to them and having me count.
We did this together and matched the pieces up. I'd ask her to point to a certain color too and she did great!
Worked on our color and shape flash cards...
We've been working on the ABC's at the table with her new place mat. We sing the song and point to the letters. So far she can only point to the A successfully.
She no longer likes her apples cut up. She likes eating them like Daddy!
While I was doing dishes, I let her stand on a chair and "help". I put soapy water in the sink with blue food coloring, which she thought was pretty cool. Of course we had a wet mess, but she loved helping Mama. And to me, messes are completely worth it if she's having fun and learning!
I was going to let her paint one of our little pumpkins, but it's rained for two days here and they are all wet. We will be doing that this week!
To see what other Tot School mom's are doing, go
here
.