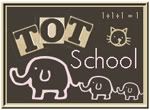 Kyla is *almost* 21 months.
We continued working on colors, ABC's and counting to three this week.
Her cousin Gianna came over this week and enjoyed them too!
She loves the soft puppy.
I actually bought four packs of these. Since she pretty much has these mastered, I'm going to get the colors and shapes set out this week. Hopefully she'll be able to pick out the red object for example. We will start talking about shapes, but I don't expect her to know them. I also have an animal set and numbers & counting set that we will save for later.
The container they came in is fun too :)
Ironing her laundry (aka Kase's burp cloth)
I've downloaded a few apps on my new phone for Kyla. The only one she's interested in right now is a memory game. You can make the board as small as 2x3 or as big as 4x5. I can't really tell if she's actually understanding how to do it or getting lucky. Tyler and I watched her for awhile and we think she gets lucky to get the first pair on the 2x3 board. But when she's down to 4 squares, she definitely understands how to match them up. When you finish the game, it claps for you, which of course she loves!
To continue working on colors, I put the four colors we've worked on most and put them in a cupcake pan like this...
I kid you not, the first three she put in the pan were these...
Two yellows and one blue
And then they were all over the place :)



She was playing with her counting bears on this same day and to my surprise, she put them in the pan. Not necessarily in the right spots, but it was a good thought :)
If you didn't see my lengthy life update from last night, read it here.
To see what other Tot School mom's are doing, go here.