It's been a rough week! Lots of snot, puke, fevers, snot, coughs and more snot.
Kyla started feeling sick Monday, but Tuesday was her worst day. She was miserable and the only time she wasn't screaming bloody murder was when I was holding her. She couldn't sleep because she was so congested, she was throwing up and had a fever. She's slowly been getting better. She hasn't thrown up since Wednesday night and her cold is slowly getting better. Just lots of snot!
I was very happy to see her playing again!
Unfortunately she gave it to her brother. I tried so hard to make sure he didn't get it. Washed our hands every five seconds (at least it felt like it). Always had one eye on Kyla making sure she didn't touch him. But Wednesday morning Kase got up at 3:00 am and he had it! The poor boy couldn't breathe through his nose at all and his eyes were red and watery. He hasn't really kept anything down for two days. He usually eats 4 ounces every two hours and is barely eating 1 oz and whatever he does eat, comes out in full force. Poor baby :(
Snuggle time with Daddy
I know kids get sick and they get over it, but it's still not easy. It's exhausting actually. But we made it through the first round! Hopefully we won't have to do it again for a long time!
I have the "hold two sick babies at a time" mastered. Kyla now always wants to come snuggle with me while I'm holding Kase
Tomorrow we're heading up to see Tyler's family. We're making the trip there and back in one day because I have a Thirty-One party on Sunday and I know the kids will sleep better in their own beds. It's a 3-hour drive one way so we're going to leave as early as we can in the morning and head home about 8:00 tomorrow night. It will be Kase's first long trip in the van so I'm crossing my fingers he'll do ok!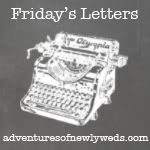 Dear 3 loads of laundry, I washed and dried you, now can you please fold and put yourself away?
Dear Kase, thank you for sleeping through the night! Although you were wide awake with me until 11:00 last night, you slept until 8:00 this morning and Mama NEEDED that!
Dear Kyla, sorry I am such a slacker and haven't got your Halloween costume yet. I'm going to get one tonight. I promise!
Dear Bloggers, thank you! Thank you for following me. For commenting. For the advice. For writing your own blogs for me to read. Some people don't understand this whole blogging thing, but I am so thankful I started it. I love the friendships that it has created. Even if we never meet in person :)
Dear Weekend, I know you're going to fly by because I have a lot going on, but could you let me relax just a little bit please?
Dear Blogger, thank you for letting me schedule my posts. I haven't been able to write much this week with sick kiddos, but when I do have time, I write a few posts at a time and schedule them.
Dear Kase (again), it's a good thing nobody comes to visit us because I am one stinky mama lately with you puking on me all the time!
Dear Tyler, it's been a long week and I need to just get out of this germ fest for a little while. Going shopping for Kyla's costume is going to be my excuse tonight, ok? Thanks!
Dear Kyla (again), please learn how to wipe your own nose soon. And I mean with a tissue. Not your arm. Or my shirt.
Dear Readers, I apologize for all the snot talk today. Just keeping it real :) Have a great weekend!