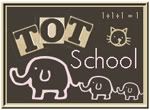 Kyla and I have started a fun little morning Tot School routine. Calendar Time! I have been wanting to start this with her for awhile and planned on making a calendar with weather and everything, but I saw this one on Amazon and it had everything I wanted. It's simple, but has what we need.

I was going to hang it up somewhere and thought about putting it on the fridge, but I don't want Kyla to be able to play with it throughout the day. The little magnets would be everywhere and lost within a couple of days. I want to just pull it out each morning and do it together. So instead of hanging it in a permanent location, I just decided to keep it somewhere out of her reach and then each morning I'll pull it out and hang it on the closet door knob.

Obviously she is too young to know months, days of the week, etc. but I don't think it's ever too early to expose her to these things. Right now I just talk to her about what month, day, season it is and I take her to the patio window to look out and check the weather. She loves this part!
I give her the magnets and show her where to put them. Sometimes they get to the correct spot, sometimes not. We just started this on Monday and each morning so far she has loved it! She likes to point to each word or number and have me tell her what it is. If I don't tell her right away she looks at me like "Umm, hello Mom?"
I'm trying to get back into the Tot School routine. We have been doing great this week. It helps that Kase takes a nap in the morning so I can focus all my attention on Kyla. She is definitely at an important learning stage. Everything we do I can tell she is taking it all in.
My plan is to keep going with colors and start introducing shapes. We have talked a lot about shapes in her books, but I'm going to try to find some activities to go along with them. When she turns two in January, we are going to start the alphabet, focusing on one letter each week. I plan on buying myself a new camera around Christmas time and I'm going to make her own alphabet picture book. I can't wait :)
So hopefully you'll be seeing more Tot School posts coming. They probably won't be too organized, but just sharing what fun things we did throughout the week.