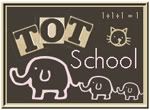 Kyla is currently 20 1/2 months

Tot School posts are back! I haven't been able to do as much planning though with two little ones so I won't have Tot Trays set up for awhile. I am just going to be sharing what Kyla has been up to each week.

This week we worked hard on being able to recognize colors. She loves painting with do-a-dots so I put them all out on the table and I would ask her which one was red, blue, etc. I was really excited when she would point to the right one and grab for it. She got red, blue and green every time, but doesn't know orange, yellow and purple as well.
We are also working a lot on our ABC's. I sing them to her every time I change her diaper. She is starting to sing along in her own little jibberish way.
She got her letter magnets out this week to play with.




My mom bought her this ABC puzzle awhile ago, but I hadn't given it to her yet. We pulled it out the other day and she loved it.

I helped her by showing her which spot the letter went and she would figure out how to get it in there.
We sang our ABC's with this too and would point to the letters as we sang.
We painted with watercolors. She has done this before (and loved it) with a paintbrush so I decided to change it up this week and let her paint with Qtips. She loved this too :)
She decided to dip her finger in the dirty water and then taste it. That was the end of this fun!
We've continued with our calendar time each morning. You can read more about that in Thursday's post.

Playing with stacking cups

The playdoh cups were a hit this week.

We didn't actually play with the playdoh. She just wanted to take the cups in and out of the box and stack them up and knock them down.
Kyla's starting imaginative play so my mom brought the little play dishwasher and washing machine from her house. Kyla loves to help Tyler and I put the clothes in the dryer so I thought she'd like that. This morning she took all the dishes out of the dishwasher and took a spoon and cup and stirred away. I love seeing her little imagination starting to come out. We're getting her a kitchen for Christmas :)
Helping with the real laundry.
Throwing balls into a laundry basket.
Once they were all in the basket she would take them all out and bring them back to the bowl.
This lasted a good 30 minutes :)
And of course you have to play IN the clothes basket.
She played with her shape sorter. She's actually getting really good at turning it until she finds the right spot to stick the shape in.
Still loving her books!
I had to sneak in a quick picture of Kase. He was being such a good boy while Kyla and I were playing.
We don't play downstairs a whole lot right now so she was loving every second of it this week. It's hard to haul her and Kase down there and it's freezing so I like to keep him upstairs. But I snuggled him up and we made the trek down there this week.
I tried to get her to point to the colors with this too. She was more interested in stacking them. She was able to put them all back in the correct spots though.
Our iPad has been a great investment! She still gets about 15 minutes in the afternoon or before bed if she is good in the morning for me. I'm still looking for good apps for toddlers so if you know of any, please let me know!
Banana stain on her shirt :)
I wanted to make a little Fall painting project since Kyla loves painting so much. And since I'm not very creative, we just did a tree with do-a-dots.

So simple, yet she loved it! And Daddy is excited to take it to work to hang up in his office :)


To see what other Tot School moms are doing, go here.