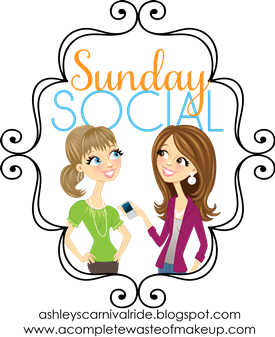 Happy Sunday! I am so sad the weekend is almost over and Tyler has to go back to work tomorrow. I'm very nervous about taking care of both kids this soon after surgery. I'm in a lot of pain and haven't been able to eat much. But I'm just going to try to enjoy our day today as a family and not stress about it too much. Hope you all have a great Sunday!
I'm linking up for Sunday Social today!
1. What is something you have wanted to do but are afraid of?
Lasik eye surgery - I have had glasses since 5th grade and have wanted to do this surgery for oh, I don't know, probably 10 years now. Despite having several friends do it and be happy with the results, I am still a complete chicken. Plus it's expensive. I still hope to do it some day though.
2. Where do you see yourself in 5 years?
Well, I'll be almost 35, Kyla will be 6 1/2 and Kase will be 5 and probably just entering Kindergarten. I have a feeling we will have at least one more child that I'll still be taking care of at home. Maybe working part time in a school. I really want to raise my kids until they're all in school and then get back into teaching.
3. What are you looking forward to before the end of 2012?
To be honest, I'm looking forward to our lives settling down a little bit and getting back to our boring, every day lives. And I always enjoy spending time with family, but especially around the holidays. I'm excited for Fall activities (pumpkin patch, Halloween, etc.), Thanksgiving and Christmas.
4. What are your hopes for your blog?
I just want it to continue being fun for me. I love writing, "meeting" new people and having a journal for my kids to look back on some day.
5. Do you always see yourself living in your current town/city?
No. We will probably live here about two more years and then move. We're not 100% on the city/town we'll move to, but we know we don't want to live here forever.
6. What is your morning routine
The times vary depending on when the kids wake up, but here's a typical morning as of late:
12:30 - Feed and change Kase, get him back to sleep
4:30 -

Feed and change Kase, get him back to sleep
8:00 - Both kids wake up and I get out of bed. I usually let Kyla play in her crib while I feed and change Kase. I then lay him down and get Kyla up, change her diaper, get her dressed (some days she stays in her jammies for awhile), get her milk & cereal (or whatever is for breakfast - usually during the week it's cereal) and put Mickey on.
8:30 - While Kyla's watching Mickey, I let Kase either lay on his floor mat or in the swing while I eat breakfast, get dressed, put my contacts in, etc.
9:00 - I get down on the floor and talk/play with both kids.
9:30 - Hold Kase until he falls asleep and either put him in his swing or crib
10:00 - Play with Kyla, usually need to change her diaper somewhere in here
11:30 - Kase usually wakes up and needs to be changed and fed.
12:00 - Feed Kyla lunch while I either hold Kase (you get good with one hand when you're a mom) or lay him in his swing.
12:30 - Change Kyla's diaper and put her down for a nap
Exciting mornings, right? And I wouldn't change a thing! Of course this morning when I say she usually gets up around 8:00, it's 6:30 and Kyla is talking away in her room and kicking the wall with her feet. Go figure!
Make sure you check out my post from yesterday about my Thirty-One contest here. I also posted yesterday about my hospital stay.