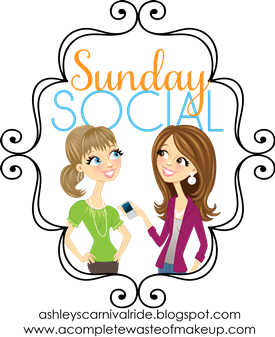 I'm linking up for Sunday Social today...
1. 5 items you can't live without on a daily basis (water, food, shelter, and clothes dont count)
1. Do my kids count as "items?" My kids are my world and I couldn't live without Kyla's hugs, kisses and smiles and Kase's snuggles every day.
2. My DVR - We've talked about downgrading our cable service, but there's just no way I can live without the DVR. I can't watch my trashy reality shows when they're actually on because changing diapers, feeding my children, giving baths, etc. are a little more important :) But once they're both clean, fed and sleeping? Look for me on the couch enjoying Big Brother, Teen Mom, The Bachelor or some other ridiculous show.
3. Mickey Mouse Clubhouse - As much as I don't like Kyla watching too much TV, it's the only way I can accomplish anything during the day. So "hot dog, hot dog, hot diggity dog" it is.
4. My laptop - gotta be able to keep up with my favorite bloggers :)
5. Thirty-One - My 2nd job (after being a SAHM). I love sharing the awesome products with other people, getting out of the house once in awhile and being able to help contribute some money for our family.
2. All time favorite book? Why?
I wish I still read, but I haven't read a book since probably before Kyla was born. I don't think I have an all time favorite though. I like all of Nicholas Sparks' books. Now I read Goodnight Moon, Toes Are to Tickle and Brown Bear Brown Bear every day :)
3. Something you'd like to accomplish before the end of 2012?
Lose a good amount of baby weight and get a good daily routine down. I'm not putting a number on how many pounds I want to lose by the end of the year, but I want to start eating better and including exercise in my daily routine. We're planning on buying a treadmill in October so I can walk/run through the winter. I can't wait to get back into shape and feel good about myself again. I gained 40 pounds with Kase and lost 20 so far. My goal is to lose 25 more so I'm lighter than I was before I got pregnant with him. But I certainly don't expect to be there by the end of the year.
4. If you could go back and relive any year of your life which year would it be?
2004 - I turned 21 in October of 2003 so I'd go back to 2004 and have a little more fun. That doesn't mean I'd go out and get crazy every night. But once I turned 21, I barely ever went out. I miss college and my college friends a lot. I'd love to go back and enjoy the college life. I would love a girl's trip sometime soon with my college friends!
5. What do you wish people knew about you without you having to tell them?
I thought about this one for awhile and couldn't come up with just one good thing. But there are several things that drive me crazy that I wish

people knew because I don't have the heart to tell them. And since I feel bad telling them to knock it off, I feel bad sharing them on my blog. Sorry, I know that's a really lame answer :)