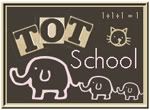 Kyla is 17 months
I have been such a bad Tot School mom lately. We have still been very busy playing and learning, but I haven't really planned anything spectacular. I've been pretty much letting Kyla tell me what she wants to do. Here are some catch up pictures from our last couple of weeks.



She has been loving drawing on her doodle pad!
She has liked this more lately, but she can only get one of the doors open on her own so she gets a little frustrated.
Her obsession with stacking is still alive!
I got all these books awhile ago at a garage sale. They are Mickey Mouse learning books. I got the set of 35 books for $5. They teach everything from colors, shapes, manners, seasons, etc. I finally pulled them out for Kyla to check out.
She did not like the big mess I made so she wanted them all back in the bag.
They will come in handy when we do more themes, but for now I am just reading a couple at a time when she's interested.
Loving her dino!
Chicka Chicka Boom Boom is one of her new favorites. She loves when I sing the ABC's to her.
Our tot trays are fun to sit on too apparently.
This has been kind of hidden behind all her other toys lately so she has been really enjoying it the last couple of days.
She prefers it to be on the music setting, but I had it on the learning setting so we could practice our colors :)
We've been working on sorting our counting bears by color (just the red and blue).
Kyla would put a big handful into the red cup and then pick out all the blue ones and put them in the blue cup. I was pretty pumped that she could tell those didn't belong in there.
She loves sitting at the table with me when I do my Thirty-One work.



Next week I really am going to start up our normal Tot School posts again. Maybe we'll even start a new color!
In case you missed my post last night, Kyla had her first swimming experience! Check it out here.