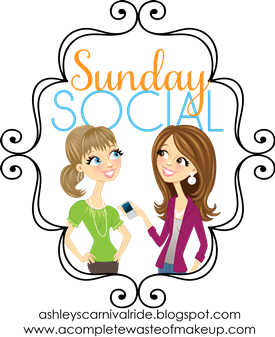 I'm linking up with
Neely
for Sunday Social today.
Best trip you've ever been on?
Hands down our honeymoon to Maui. Six years ago today we got married and we took off to Maui two days later. It was amazing. Absolutely perfect. We'd love to go back, but probably will make it a special anniversary present when our kids are older.
Best idea for a girls weekend trip?
Vegas! I went with my mom a few years ago for Mother's Day and we had a blast. A little bit of gambling and lots of laying out by the pools drinking fruity drinks. Perfect!
This is my mom and I in 2007 when my brother and sister-in-law got married out in Vegas. Apparently I didn't take any pictures when we went in 2010.
Best idea for a couples trip?
As much as I'd love to go on a quiet, beach vacation and be totally lazy, I think I'd love to go to a city we've never been to. Get a hotel for a few nights, check out the sights, eat out, etc. I'd love to visit NYC one day.
Best vacation on the cheap?
Renting a cabin up north in Wisconsin, boating, sitting by a camp fire, playing on the beach, grilling out. We usually do this with my family every August, but we had to take this year off since the baby is due in August.
Last year up in Hayward...my nieces checking out the beautiful lake.
Place you most want to visit?
New Zealand and a return trip to Maui
Vacation necessities?
A variety of outfits, swim suits, camera, sunscreen, snacks and about two suitcases full of random crap :)
Considering there are no vacations in my near future, this was a fun post to write. A girl can dream, right?