Another Monday, another episode of The Bachelorette! This week they traveled to Prague.
Arie got the first 1:1 date and we finally got to see all the drama between him and the producer. Wow, talk about anticlimactic! I was expecting much more, but I should know better. They always get our hopes up, don't they? Anyway, it took Emily about 5 minutes to get over it and her and Arie got back to making out. And then Arie dropped the L bomb on her.
John - I think he's really cute! But everything Emily said in her personal interviews, you could totally tell she just isn't into him. I think she thinks he's a great guy, but she has every excuse in the book for why they aren't meant to be together. I agree that they probably aren't meant for each other, but I do wish John would have gotten more air time. I actually really like him.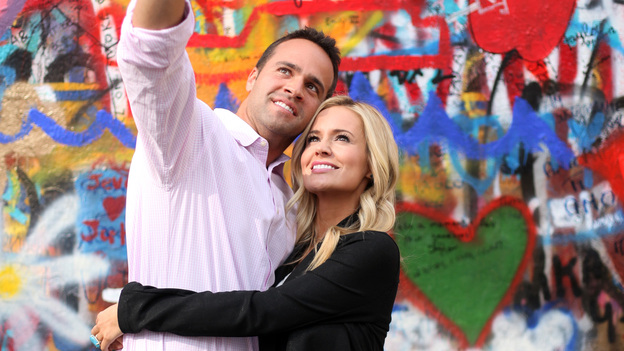 I was SOOO mad that Jef got the final 1:1 date and Sean didn't. But then Sean stepped it up and went out and found Emily. I have to admit, when people do this on the show, I know they need the help of the producers so I don't think it's all as spontaneous as they make it out to be. However, I don't care. I love Sean and you could tell Emily was really happy to see him.
Onto the group date...Doug, Chris and Sean. Doug is awkward. Chris is a cry baby. Sean is hot. Emily realizes that she should have let Doug go last week so she sends him home on the spot after a last ditch effort by him. Oh, Doug, I think you are going to be really embarrassed watching this back. So it's down to Chris and Sean and obviously Sean gets the rose. This was the least exciting date ever.
Jef got the final 1:1 date of the week and they played with puppets. Even though Jef isn't my number one pick for Emily, I think she likes him a whole lot more than I ever thought she would. I do have to admit, they are cute together. However, I still prefer Sean.
In the end, Emily gets rid of John (no surprise), although of course they had to build the suspense and make Chris sound annoyingly worried and John sound mistakenly confident. I wasn't surprised one bit with the final decision.
Next week are the hometown dates! Finally we are getting to the good stuff! At this point, I have absolutely no idea who Emily is going to end up with. I don't think it's going to be Chris, but other than that, I'm clueless. Although we all know who I
hope
she ends up with :)
Go over to
More from Meg
to link up and share your thoughts.