I have to be honest, I was expecting more from this episode. I'm not sure if it was the previews we saw last week or what. I hate when they show us previews for something and then it's never shown. Like when Emily says "Who else isn't here for me?" to Chris. Damn tricky editing! They traveled to Croatia though, which was very cool.
Travis was sent home on his 1:1 date. He seems like a really nice guy, but you had to know that he wasn't going to end up with Emily.
For the group date, they got to see the movie Brave before it comes out and then the guys participated in some Highland games. A guy in a kilt doesn't really do much for me, but I have to say, Sean is hot in pretty much anything.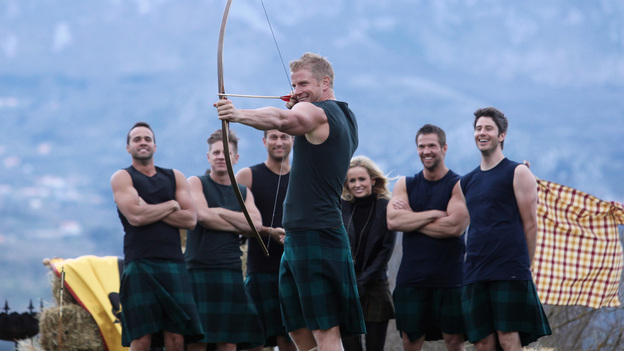 But as much as I love Sean, I have to say, based on this episode, it might be game over. The time Emily and Arie had both on the group date and his special visit to see her was crazy. It's amazing though how this show can make you completely confident one week and then think something totally different the next. Ugh, damn you producers! It looks like Arie gets a 1:1 next week too so I'm sure their relationship will get even stronger.
How awkward was Doug last night? For him always talking about being "older" and "mature" (remember the annoying conversation with Chris?), he sure acts like a nervous teenage boy around girls. That whole conversation was just weird. I think that is the end of Doug.
I actually like John aka Wolf. I don't think he's going to make it to the top 4, but I do think he's sweet. I'm glad Emily kept him for another round.
And then there was Ryan's 1:1 date. Thank goodness Emily decided to
finally
send him home. I think I've said it every week, but the guy is just creepy. I don't think he was sad that he's not going to end up with Emily. I think he was embarrassed that he lost the "game". We will not miss you, Ryan!
Based on the previews, Arie and John are going to get 1:1 dates next week. My prediction is John and Doug will go home, although they showed Chris having some issues. But I have a feeling that is just the producers creating some air time for him since we haven't seen much of him lately.
But what I think we're all most excited for...Emily finding out that one of the guys used to date a producer. I have heard rumors about all of this, but there was no way I thought they would show any of it. I can't wait to see how it all plays out!
Go on over to
More from Meg
and
Hell on Heels
and share your thoughts from last night's episode.
Until next week...