As Sean said "HELLO LONDON!"
Finally we got to see him and Emily together on a one on one date. Game over! I think they are perfect together! To be honest, I could have had the whole two episode of just them. I'm 100% Team Sean!
Then there was the much talked about group date. I actually fast forwarded through the Romeo and Juliet scene. It was putting me to sleep and I wanted to stay awake to see the drama.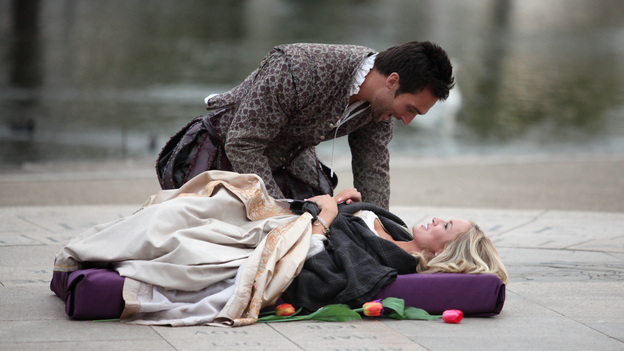 So at the cocktail part of the group date, the guys start talking about how Kalon referred to Ricki as "baggage". And he certainly didn't deny it. He is something else, I tell ya! He tried to say it means she is a responsibility, but this isn't the first time he's said something like this.
Doug decides to tell Emily about it and I loved that Emily went right out and confronted Kalon. Raspy voice and all, it was amazing! The best part was when she gave him the "I love to hear you talk, but not until I'm done" line that he gave her. Hahaha! You go girl! Oh, and the "Get the F out" line was pretty amazing too!
Bye bye!
I understand why Emily was so upset, but I was a little bothered that Doug didn't get any credit for being the one to tell her. She said many times how upset she was that nobody told her. I think she was just upset that
Arie
didn't tell her. I honestly think out of all the guys on that group date, he's the only one she sees herself with so she was disappointed in him. But obviously she couldn't say that so she was putting it on all the guys. Poor Doug!
It was then Jef's turn for a one on one. Him and Emily seem to really get along and have a flirty connection. For some reason, I just don't see them together. I do like him and think he's a really good guy. I don't know what it is. I think it was good for him to have the date right after all the drama. He was able to make Emily feel better and renew her confidence in the whole process. He definitely knows the right things to say. I think Jef is now a contender, for sure! What bothered me most about their date though...they didn't touch that dessert. What was up with that? And he says "like" a lot, but I'll forgive him for that.
Some other random thoughts about last night:
~My top 3 are Sean, Jef and Arie (in that order) with Doug at number 4.
~Ryan wasn't as big of a douchebag last night, but he still creeps me out. I really hope he goes home next week and Emily puts him in his place.
~I was happy that even though Sean already had a rose, he got a little time with Emily at the cocktail party. She just seems so happy with him and you could tell she just wanted him to hold her and protect her. So cute!
~No shock with the rose ceremony. Sorry, Alejandro. He seems like a good guy, but not right for Emily.
~One of my favorite parts of the episode is seeing the previews for next week. And last night we got to see previews for the rest of the season. Looks like we have more drama and lots of kissing!
Go on over and link up with
Meg
and make sure to leave me a comment and let me know what you thought of last night's episode!