Once again I'm linking up with Meg from
More from Meg
for The Bachelorette Dish.
Let's first talk about this season and then I will get into last night's episode. I have read about and heard so many people say how boring this season is. I've also heard the ratings are down. Why is this? Especially since everyone was so excited for Emily to be the Bachelorette? Here's my theory...
In past seasons, things weren't so serious. Let's be honest. Previous Bachelorettes (like Jillian, Ali, Ashley) came on the show to travel the world for free, date 25-30 guys, get paid a lot of money and if they just so happened to fall in love, great! If not, oh well. The dates were crazier and more adventurous. The producers purposely brought people on the show to create drama and chaos, which is what the viewers want. This season with Emily, it is actually about finding love. She is very serious about wanting to find a husband and a dad for Ricki. The producers wanted her on this show so bad they are willing to do anything for her. They care about her and didn't want the drama. So now people are bored. People love a great love story in real life, but they want drama on TV. Anyway, this is just my theory. I personally do think it's a little boring so far, but I love Emily and I'm really hoping it works out for her! Anyway, let's talk about last night.
The Good
~Arie is so far ahead of the other guys at this point. I really like them together. They seem like they just have a natural connection and don't want to keep their hands (or lips) off of each other.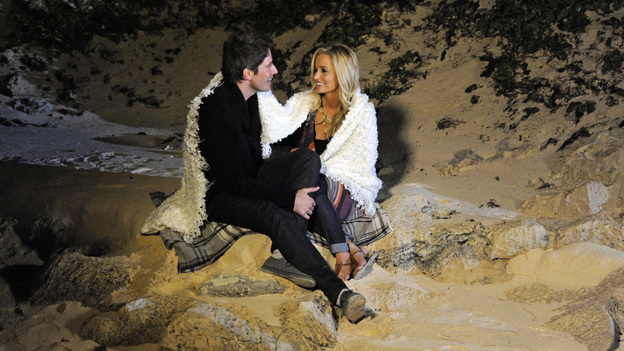 ~I'm still liking Sean and was so bummed that he was on the losing team. But I was glad they had a good conversation at the cocktail party. It seems Emily is really into him too.
The Bad
~Doug's temper. Why was he letting the guys get under his skin so much before his 1 on 1 date? The whole thing was just weird. I like Doug and all, but I just don't see him and Emily together. They both have a child, which I think is the only thing keeping their relationship alive. Without that, I don't think they'd have anything to talk about. And with the limited amount of time you get to spend together on this show, how can you not kiss her on your 1 on 1 date? Doug is dunzo if you ask me.
~John (Wolf) and Nate's 2 on 1 date. How awkward was that? I guess if you think back to previous seasons, all of the 2 on 1 dates are awkward. But it's very clear that neither of them have a chance. I do think John seems like a nice guy, but I just don't see him and Emily together.
The Ugly
~Ryan. Need I say more? Ugh, this guy. How did he go from one of my favorites to the one I can't stand? He is crazy to think anyone would want him as the next Bachelor. He needs someone to put him in his place and I hope it's Emily. I loved how she told Chris Harrison that he's not fooling her. She seems like she knows exactly what kind of game he's playing. I just wonder how long she'll let it go on.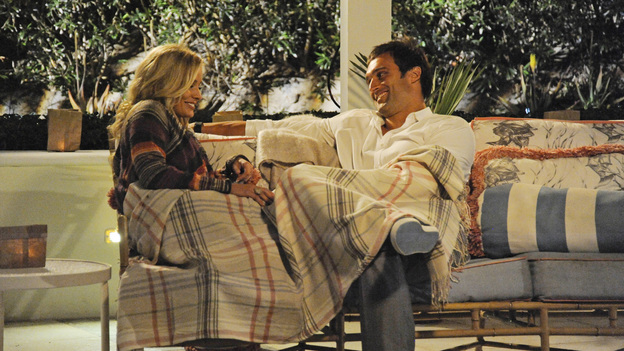 ~The whole disagreement between Chris and Doug was just annoying. Who cares who's older. And why is Chris letting that bother him so much? I do think that age will be the end of Chris though. I definitely think Emily is looking for someone a little older. And since she thinks Chris is so "perfect", I think that will be the one thing that will make up her mind about him.
Other Thoughts
~I couldn't really put Jef into the good or the bad because I just don't know. He seems very cautious and like he has a high school crush. Emily was hoping he would kiss her on the beach and he didn't. Have these guys watched the show before? You better take advantage of your time with her because you don't get that much. I think Jef is going to end up in the friend zone, which is never a good place to be.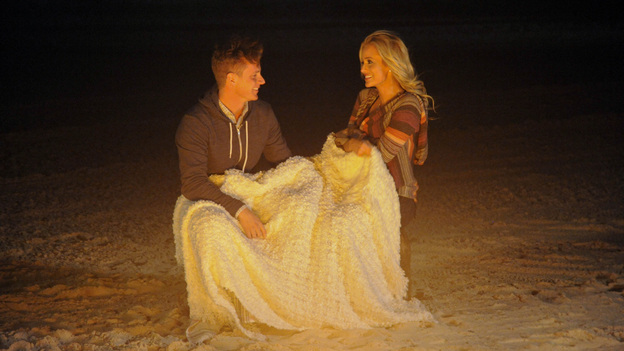 ~It's official, I have jumped on the Arie bandwagon. I absolutely love their chemistry. However, I reserve the right to change my mind again next week because it looks like Sean gets a 1 on 1.
~I cannot wait for next week to see who Emily tells to get the F out!
~I don't really have any thoughts on the eliminations last night. They were expected. I mentioned it last week, but I wish we could just skip right to the top 4. In my opinion, Alejandro, Kalon, Travis, and John have absolutely no chance.
~A completely random side note - I saw during commercials that Secret Millionaire is coming back. I love that show :)
~Sorry, one more side note...does anyone know why my button isn't working up top? The picture shows up when I am typing this post up, but when I publish or preview, it doesn't work. All I'm doing is copying the button from
More from Meg
, clicking on HTML and pasting it in. Am I missing something? Thanks for any help :)
What did you think of last night's episode? And let me know what you think of the season as a whole so far. Boring? Can't wait for next week!