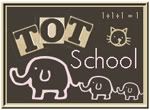 Kyla is 16 months old.
This week was all about the color green! I put together a bin of everything green I could find in her toys.
Her favorite thing was the green egg.
She loves her counting bears too. Dump them out, put them back in one at a time!
Her first tot tray was her
Cookie Jar Shape Sorter
.
If I show her where to put the shape pieces, she will put them in the right spot, but she would much rather just put them in the top of the jar.
All done with this toy, Mama!
Her next tray was the
Melissa & Doug Cutting Food
.
There's a lot more that comes with it, but we just played with the green food :)
After me modeling how to cut the food, she did give it a try, but was unable to get through the velcro. She loved just pulling them apart with her hands though and putting them back together. This was her first time with anything velcro. She did great!
Her last tot tray was just some green popsicle sticks and a parmesan cheese container. If you remember back, she loved the pipe cleaners with this container, so I knew she'd love this too. I was right. It was her favorite activity by far this week. Even when Tyler took her downstairs to play, that is the first thing she went for.
Here is this week's puzzle, which she loves!
Here are a few other things Kyla enjoyed this week...
Her Dino!
Mr. Potato Head
Her animal books
Her life learning skills were helping Daddy take off the outlet plate so he could paint...
And helping Mama make brownies.
Pouring
And stirring
Lots of gross motor activity this week! The weather was beautiful so we spent a lot of time outside!
Playing with sidewalk chalk
There's Daddy mowing the yard!
We had a great week! Check back next Sunday to see what we're up to this week :)
To see what other Tot School mom's are doing go
here.