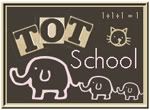 Kyla is 14.75 months
We took a break from our color themes to have an Easter themed week. Instead of a color bin, I did a simple Easter sensory bin. Kyla is still a little young for sensory bins so I kept it very simple so it wasn't too much of an overload. You can read more about sensory bins
here
but basically they are to get her to focus her attention and make comparisons and decisions based on her senses. They are great activities to build strong brain development and learn to focus attention.
Here is our Easter bin...
Like I said, very simple! I colored some rice to make it pastel colors and just added some Easter eggs. To color the rice, I simply put about 4 cups of rice in a large ziploc bag, added about 2 tsp. of rubbing alcohol and a few drops of food coloring. Close the bag and stir it all around until all the rice has turned color. Then I poured it onto a cookie sheet with wax paper and let it dry. It doesn't take long to dry, maybe an hour or so. I did a bag of pink, green, blue and yellow. It's kind of hard to see all the colors, but I was happy with how it turned out.
I didn't put anything in the Easter eggs because I knew Kyla would be a little overwhelmed with the rice. She has always been hesitant with new textures. She used to be scared of grass and shaggy carpets, but she has outgrown that. Plus the eggs themselves were a great way to practice scooping rice up and pouring it out.
We did this shortly after she woke up, which explains the bed head and pj's :)
She did use the large eggs to scoop rice up, but it was after the garbage truck drove by and scared her onto my lap so I didn't get anymore pictures :) She's always been afraid of the garbage trucks when she hears them coming.
Obviously I was watching her closely the whole time so she didn't put any rice in her mouth. She was actually not a huge fan of it anyway so I don't think that even crossed her mind. And I wanted to do it outside, but it was too cold so we did it on the kitchen floor. I fully expected rice to make its way out of the container, but it was easy to sweep up!
We did continue with our Tot Trays this week. Our first tray was a little bowl with clothespins. I put the clothes pins on the side of the bowl and showed Kyla how to take them off and put them back on.
She was able to pinch them to get them open, but wasn't getting the correlation of then putting them back ON the bowl. She was just interested in putting them IN the bowl, not clipped on the side. But that's ok. She still enjoyed these "new" toys!
Our next tray was an egg carton with plastic eggs.
She took each egg out, one at a time.
And then back in...
She also decided to put one on the table and she enjoyed watching it roll around.
Another thing you can do with the egg carton is color sorting with the eggs. I painted the egg carton the same color as the eggs...
We didn't do the color sorting this time, but will in the future. Such an easy, but great learning tool!
And our last tray was Kyla's first color sorting activity. I decided to use her
Counting Bears
. They come with five different colors, but I only used red and blue this week. Because those are the two colors we've worked on and two colors is plenty to sort at this age!
She did take most of the bears out of the bowl and put them into cups, but the actual sorting part was too difficult for her. She was very interested in this activity though so I put my camera down and really worked on it with her. I was so happy she was so into it and wanted to take advantage of that teaching moment! She would grab a bear out of the bowl and I would say the color and then show her which cup matched and she would drop it in. It was a great start to color sorting!
We did an Easter craft that I got from
here.
I just put a little glue on the back of the eggs and let Kyla put them on the basket. Basically the same concept as stickers, which she doesn't totally have the hang of yet. She did eventually get them all stuck on.
Although not in our Tot School shelf, she was loving her building blocks this week! Each day she would drag the bag over to the carpet for me to open :)
I hope you all had a great Easter! We sure did. I will post a full "Easter at Grandma's" post tomorrow with lots of pictures from our egg hunt today!
To see what other Tot School mom's are doing, go
here.