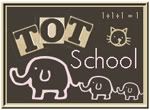 Kyla is 15 months old
We didn't have a very organized Tot School week so I apologize, but I don't have much to post. I didn't get a color bin or Tot Trays together. We had a lot going on last week and Kyla and I both weren't feeling well. She still has a runny nose, but is feeling a lot better!
I will share some of the things Kyla was enjoying this week.
She loves her
Melissa & Doug Rainbow Stacker
. Before she would just take all the rings off, but she can now get them all back on! We are working on the colors and getting them back on in the right order.
All of my pictures from this week she has her mouth open because she couldn't breathe through her nose.
She had a lot of pretend play time. She LOVES babies! We rocked them, burped them and fed them :)
She drug her Pottery Barn chair over to the corner of the living room, turned it the wrong way, and read books. I eventually had to move it though because she realized she could climb up on the chair and then up on the shelving thing.
I got a magnetic board when I went to Ikea a few weeks ago so I pulled out our letter magnets for her to play with. She just loves putting them on and taking them off.
Her and Daddy love to read books together! And yes, I probably take way too many pictures of them reading books, but I just love watching them interact and seeing how much they love each other and they will appreciate these pictures eventually :)
We recently got her this
First 100 Words
book and she absolutely loves it so we spent a lot of time with it this week!
She likes to just point to objects and we tell her what they are. But we are really trying to get her to recognize the pictures and increase her vocabulary. If we ask her where the ball, shoes and brush are, she can point to them, but isn't saying them yet. I love how much she loves this book though!
She got a new Minnie Mouse ball for Easter that she was also loving this week.
Her real life skills this week were helping Daddy do some hammering while putting our Ikea shelving unit together.
We will be back at it this week with a color bin, Tot Trays and much more! To see what other Tot School mom's are doing, go
here.