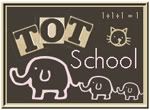 Kyla is 15.5 months old
This week we did a review week with our colors that we've worked on so far (red, blue and yellow). We also focused on learning body parts. And unfortunately I don't have a lot of great pictures to share because a) Kyla learned how to climb up onto her rocking chair and table chairs so that's all she wanted to do all week b) Learning body parts really isn't a great photo opportunity and c) We did a sensory bin and she was very tempted to put things in her mouth so I really had to keep a close eye on her.
To replace our normal color bins, I made up a sensory bin to review our three previous colors. I dyed three different kinds of noodles.
Just put noodles in a ziploc bag, add rubbing alcohol and food coloring. Stir it all around until it's the color you want. Lay the noodles out on wax paper to dry.
I put some color blocks (Target dollar section) into the bin for Kyla to dig around and find. She was mostly interested in digging out the red noodles. And like I said, she was wanting to stick them in her mouth so I put my camera down and supervised :)
Our first Tot Tray this week was
Mr. Potato Head
. Kyla loved it! We talked about each part as we put them in and then would talk about where they were on Kyla's body. Right now she really only knows where her nose and ears are. But I think after this week and some more practice, she will have more down soon!
I put Mr. Potato Head's parts in the sensory bin for her to dig out and then put on his body.
Our next tray was some body part
flash cards.
There are a lot of cards available, but I focused on eyes, ears, nose and mouth. Kyla loves her pocket chart so I knew the flash cards would be a hit. She thought they were funny when I would show her one and then point to her eyes or whatever.
Our last tray was the
Colored Geo Forms
. This is another toy that I keep separate from the rest so Kyla loves it every time I pull it out.
She likes to be a big girl and carry everything around.
Stacking
Some other things Kyla enjoyed this week...
Running around outside
Reading books
Drawing on her doodle pad
Sorting color blocks on the table
Then when she learned how to get up on her chair by herself, she would throw a block on the floor, get off her chair to get it, get back on the chair, throw another block, get down and get it, etc.
I let Kyla lead everything we do each week. I show her the activities, model how to do them and let her do it however she wants and as long as she wants. This week was definitely no exception. Although I would have liked to focus on the body parts and practicing putting the Geo Forms in the right spots, she preferred climbing on her chairs. But I want to make sure Tot School is always fun for her so I will not force her to do anything. She is the boss :)
To see what other Tot School mom's are doing this week, go
here.