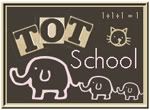 Kyla is 15 months
We continued with our color bins this week with the color yellow! We didn't have as many yellow things around the house as red and blue, but still got a fairly good collection.
counting bears, stacking cups, blocks, bath toys, books, sponge, eggs
Her favorite thing out of the bin was the little sponge. She kept putting it against her face and laughing.
And of course she is still loving anything that she can open and close.
After she was done with the yellow bin, she went right for her books!
She got this adorable chair from my aunt and uncle and she thinks it's pretty awesome! I think she's pretty darn cute sitting in it :)
By the end of the week she could climb up in there all by herself. This is definitely her new favorite place to read!
Helping Mama stack the blocks...
We also got back to our Tot Trays this week. Our first tray was yellow pom poms in an empty baby food jar, a spoon and a paint palette.
There could be many different goals with this tray. I wanted Kyla to get more practice using a spoon. She will eat food off a spoon when we put the food on there for her. But she is still struggling with getting food onto her spoon. So with this tray, we practiced scooping the pom poms onto the spoon. I included the paint palette for somewhere to put them after we got them on the spoon.
Now let me tell you how this tray
actually
went...
I modeled how to get the pom poms out with the spoon. She just enjoyed "stirring" the pom poms. She would also sometimes dump them out and put them back in the jar. I would put them on the paint palette and she would grab each one and put them back in the jar. This is one of those activities that I just let her be the lead and didn't force the spoon. This was by far her favorite tray and played with it for about 30 minutes the first day and every day after that.
We (ok, I) made up a little song about stirring :)
Our second tray was the
Learning Piggy Bank
.
Kyla loves the music that the piggy makes. As soon as I showed her how to put the coins in, she got the idea, but couldn't get them to fit in there. She would get frustrated and give up. So I would start them for her and she would push them in the rest of the way. This is one of her toys that isn't out in her every day toy bins so I will bring it out every so often so it is still fun each time :)
Notice how she wouldn't let go of the pom poms and baby food jar?
By the end of the week she was able to get them in by herself!
Our third tray was
Color Matching Cards.
There are 10 different colors with six cards for each color available. I chose to only use the three colors we've worked on so far with the base color card along with two picture cards. The goal is to match the picture cards with the base color. But I knew that was way above Kyla's level so we just talked about the colors and what each picture was.
We got our
Pocket Chart
out, which I knew Kyla would find very interesting since it was new.
She enjoyed taking the cards out and trying to put them back in. I realize she is too young to know where to put them, but we just made it a conversation about colors and the new vocabulary words with the pictures. She would take a card out, look at me and say "dis?" (this?) and I would tell her what it was and the color.
She colored her
Yellow book
with a yellow crayon. However, she wasn't too thrilled with how light the yellow was. She doesn't push very hard so it was very hard to see what she was coloring so I let her have some other colors too.
Kyla experienced play doh for the first time. I let her play with the yellow this week, but she was not interested at all. She gave it a little poke and was done.
After our "school" time each day, we enjoyed music while we played. This week we listened to
The Best of The Laurie Berkner Band
. Kyla loves to dance to the silly songs!
We had a great week! This upcoming week we are not going to start a new color. We are going to review the three colors we've worked on so far and focus on learning our body parts! Come back next Sunday to see all about our week!
To see what other Tot School mom's are doing, go to
here.