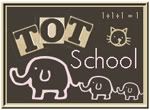 Kyla is 14 months old
This is my first official Tot School post! I posted a little background information about it in
this post.
I will share our week's worth of activities each Sunday night.
We started our themes with colors. This week was the color red! I took a bin around the house and collected everything red I could find. Our red bin consists of foam shapes (dollar section at Target), stacking cup, bath toys, football, recorder, plate, play cell phone, flour balloon, cup, bowls, etc.
Our first day only lasted about 15 minutes. After that Kyla was off in the living area trying to climb on the couch :) We started by exploring the color bin. She was so excited when I opened it up and let her dig in! I thought she might dump everything out, but she took things out one at a time. Her favorite thing by far was the flour balloon (just a balloon filled with flour to make a squeeze ball) and the red cup. She liked putting the balloon in the cup and taking it back out. She also had a couple red balls that she liked to put in the cup and shake around to make noise. She found the foam hearts on the floor next to a bowl and put each one in the bowl. She accidentally knocked the bowl over and they all fell out so she did it again.
Our puzzle of the week was her favorite shape puzzle. She could already get the circle and square in it's place and this week she got the rectangle! She hasn't really attempted the oval or triangle yet.
I have decided to do 3 tot trays per week to start. To read more about tot trays, read my post
here.
I'm still learning what is best for Kyla so I'm sure things will change a lot. For now, this is my Tot School area...
Since I have 6 spots in this organizer, I am going to do 3 trays on the bottom, one spot for our color/theme bin, one spot for the puzzle of the week, and one spot for our books for the week.
The trays themselves I got from Oriental Trading
here.
Our trays this week (from left to right) were putting stickers on red paper, the
Sort & Spin Hippo
, and exploring pom poms in a paint palette and a small container. I had the pom pom tray upstairs (because I just hadn't taken it down yet) and Kyla found it and played with it for awhile. She loved taking them out of the paint palette and putting them in the container. She also tried hard to get the lid on the container, but couldn't quite get it yet. Then when the tray was downstairs for our Tot School time, she had absolutely no interest in that tray. Been there, done that I guess :) I didn't get any pictures of her playing with it upstairs because I wasn't expecting it. But either way, I was happy that she enjoyed it.
She had fun with her shape hippo. I would show her which spot to put the shape and she would (almost) put them in. She got very close on each of them, but I had to help her get it all the way in.
This was Kyla's first exposure to stickers. She wasn't crazy about them because they would get stuck to her finger and she couldn't get them off. I showed her how to put them on the paper, but she couldn't do it on her own. Once I put the sticker on, she tried hard to peel it off. We will do this again next week as I think she'll do better next time and it's great for gaining fine motor control.
The purple lap tray I got at Michael's. It's perfect for things like this and for coloring.
We also went to the library for the first time this week. Kyla ran around and liked pulling all the books off the shelves. I didn't really expect any different. We were there about 10 minutes and got 3 books about colors.
As no surprise, Kyla's favorite part of Tot School this week was reading books. I think I read Brown Bear 15 times on Thursday!
This week she also colored her book of red that I got
here
(I hope to someday soon create a page where I have all of my printables I use that way you can easily access them all in the same spot if you're interested in using them). She actually did a really good job coloring. I showed her what to do and she caught on right away.
I also let her paint with a red
Do-A-Dots
. Obviously at this age, I have to watch her very closely. She's still at the age where you never know what might end up in her mouth. I make sure to monitor her every move during Tot School. She gets to play with a lot of things that aren't typical toys, but are great learning tools. I'd much rather keep a close eye on her than not expose her to these activities. Obviously it's much easier when you only have one child at home to watch :)
She did great with the Do-A-Dot paint too. I showed her what to do and she painted away! She did like to touch the end of the paint with her fingertips. It washes off easily though.
Her finished book of red! The apple, balloon and heart is where I modeled how to use the paint. Some of the dark crayon marks are mine too. She pushes lightly so it's hard to see all of her coloring in the picture. It's currently hanging on our fridge as our first Tot School project, but I'm going to cut it out and save all her color books. It will be fun to see her progress as the weeks go on.
Our "life learning" for the week was finding a huge frog in the back yard. It was a good teaching moment! When we start the alphabet and do one letter per week, we can bring this picture back out for "F is for frog"!
The other life learning she got was helping me with laundry. I didn't have my camera down there (bummer!) but I handed her a few things from the washer and she put them in the dryer for me. And then she attempted to take every single thing out of the dryer before I got everything in :) Never too young to start helping with laundry!
Hope you all enjoyed reading about our first week of school. Please feel free to share your comments and ideas. I'm excited to continue our Tot School journey and share it with you! Check back next week for the color blue!